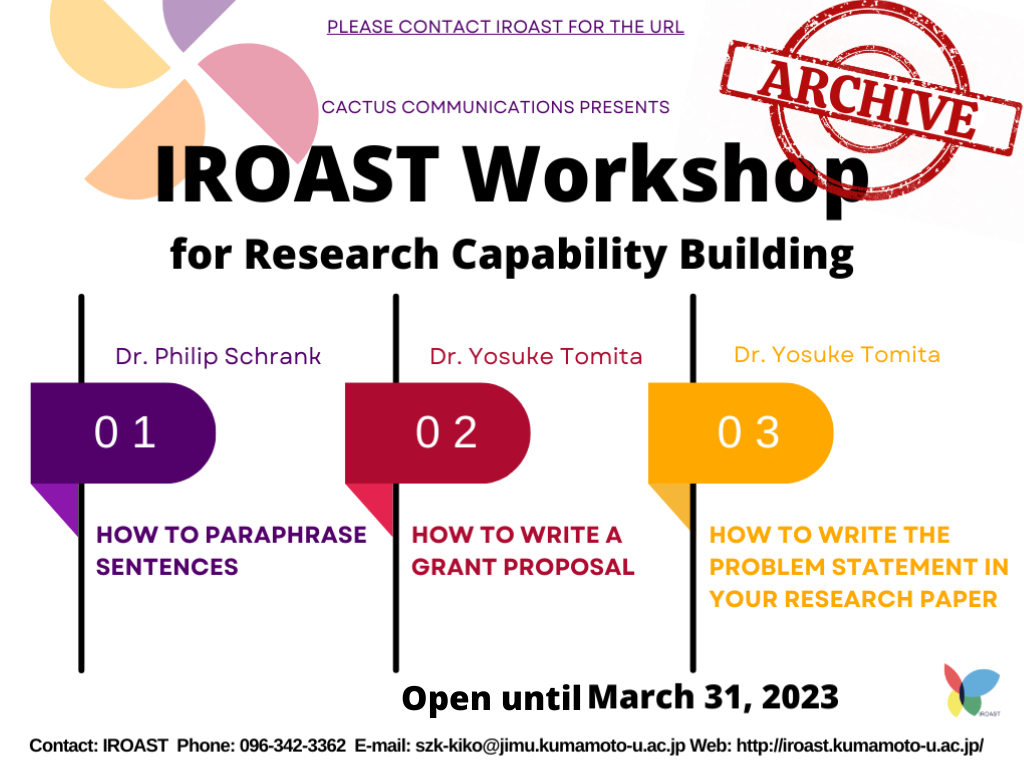 本学の研究力向上の一環として、令和4年度に実施したIROAST「研究力向上のためのワークショップ」のアーカイブ動画を下記のとおり、公開します。前回参加できなかった方、再受講を希望される方など、本学の教職員及び学生であれば、期間中いつでも、どなたでもご覧いただけます。是非研究力の研磨にお役立てください。
1. 掲載期間:令和5年3月31日(金)まで
2. 掲載URL (お手数ですが下記問い合わせまでお尋ねください)
講師の経歴等はこちら
【問い合わせ先】
自然科学系事務課 国際先端科学技術研究機構(IROAST)担当
E-mail szk-kiko[at]jimu.kumamoto-u.ac.jp
---
FY2022 "IROAST Workshop for Research Capability Building" archive release
As part of our effort to enhance our university's research capabilities, IROAST releases archived lecture movies of "IROAST Workshop for Research Capability Building" held in FY2022 as follows.
The URL is open at any time during the period for those who in KU were unable to attend last time or wish to listen again.
We hope you will find it useful in improving your research skills.
Open period: Fri, March 31, 2023
URL (Please contact us at the address below for further information.)
Please check their profile from here.
[Inquiries]
International Research Organization for Advanced Science and Technology (IROAST)
E-mail  szk-kiko[at]jimu.kumamoto-u.ac.jp