【9/19(Tuesday)】KAKENHI Seminar for International Researchers
Sep 8, 2017
The Kumamoto University URA Office is pleased to announce an English-only KAKENHI seminar for international researchers who are interested in applying for one of the most popular funding schemes in Japan. The seminar will introduce you to the world of KAKENHI, inform you about the upcoming changes for the 2018 application cycle, and provide an opportunity to speak with a current KU international researcher with a successful KAKENHI application record.
Click on the image below to see a larger one.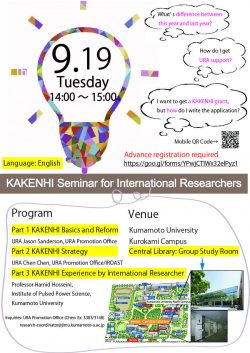 ★If you are interested in joining this seminar, please reply as follow with an advance registration. https://goo.gl/forms/YPwjCTIWx32elPyz1
★If you are interested in the seminar but are unable to attend, we can arrange a one-on-one meeting with you at your convenience. Please reply as above but let us know that you would like a personal visit and include 3 dates before Sep. 30 that are best for you.
Thank you for your time. We look forward to seeing you.
Inquiries: URA Promotion Office (Chen, Jason: Ex. 3303/3148)
research-coordinator@jimu.kumamoto-u.ac.jp