Kumamoto - a good living and working environment for researchers
Kumamoto is located in the centre of Kyushu, the most southern main island of Japan where famous Mount Aso is located and is on the Sea of Amakusa. It is well known for its many natural beauty.
Kumamoto University is located in Kumamoto City which has many memorials from ancient times there and throughout the region. Ideally placed for focusing research whilst providing a comfortable lifestyle with good food as well as natural and cultural beauty.
---
Easy access to all parts of Kyushu and to Asia!
Kumamoto is located in the middle of Kyushu. It is a place with good transportation access, with a well-developed transportation network that includes the Shinkansen bullet train and airplanes. It takes only 1 hour and 30 minutes to Tokyo by plane and 1 hour to Osaka.
Its proximity to Asia is also a major feature. There are direct flights from Kumamoto Airport to Korea, Hong Kong, and Taiwan. Fukuoka International Airport, the gateway to Asia, is only about 30 minutes away by Shinkansen bullet train.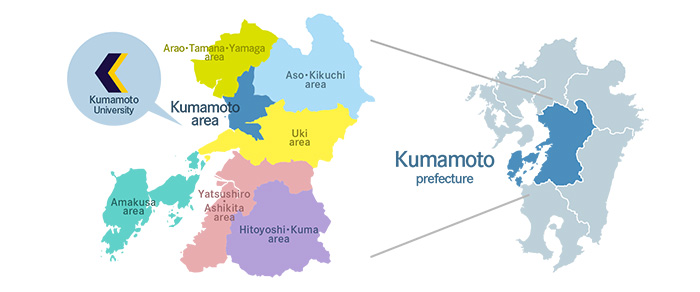 Springwater City

 

Kumamoto is called 'Springwater Country' and has more than 1500 natural spring sources throughout prefecture. The city's water comes from these natural springs -a very rare occurrence in the modern world. Kikuchi Creek, Shirakawa Springs and Lake Ezu are the most popular spring water spots for Kumamoto residents.
Semiconductor manufacturers around the world also pay attention to Kumamoto's water. Kumamoto has a concentration of factories of device and electronic device companies.
Delicious Food Nurtured
by Nature's Abundance

 

Great rice, meat, seafood, vegetables as well as fruit. Nature rich Kumamoto has it all.

In addition to dishes using seafood such as shrimp, "Akaushi "  in Aso, and Jersey milk, soft-serve ice cream made from milk and ikinari dango, a sweet made from sweet potatoes, which are a specialty of Kumamoto, are also popular.

Local dishes such as Thai pien (a soup dish containing vermicelli) and spicy lotus root are also popular both within and outside the prefecture.

Sake (Japanese rice wine), Shochu (Japanese vodka) and local wines are all to be found here.
 

 

Modern life with nature

 

You can enjoy a mixture of modern and convenient living with a relaxed and natural lifestyle in Kumamoto. There are large shopping centres and department stores where you can find what you need for everyday life whilst near Kumamoto University, you are surrounded by nature and close to wildlife.

A little further away is Aso, known for its caldera, where you can enjoy horseback riding, paragliding, skiing, and other sports. In Amakusa, marine activities such as marine sports and dolphin watching can be enjoyed.

Other popular destinations include cycling, pottery making, hot springs, and trips to historical sites. Places where anime has been set are also popular.

 
An easy city to live in
with few concerns
about medical care
and child rearing

 

Kumamoto is known for its excellent medical system. The number of hospital beds and doctors per population is among the highest in Japan, so you can rest assured that you are in good hands.

There are many daycare centers, so there are few children waiting for admission.

Rent and living expenses are inexpensive compared to urban areas, making it an easy place to live.
 

 

Easy to live in for foreigners

 

Approximately 6,000 foreigners live in Kumamoto City (as of March 2022).
Not only in Kumamoto University, but also in various other places, there are multilingual consultation counters, including English, and disaster prevention information is available in many languages. There are also many events held by private organizations for foreigners.
A three-minute walk from Kumamoto University is "the Kumamoto Islamic Center", one of the mosques in Kumamoto. There are also stores and restaurants that sell halal food.

 
---
Work-life and balanced lifestyle in Kumamoto
To go to the university you can either drive, take a bus or maybe use a bicycle.
Focus on your research on weekdays and enjoy relaxed weekends. There are plenty of activities to make your life enjoyable!

>> LINK <<