Visitors from Ngee Ann Polytechnic, Singapore
Jun 25, 2018
We had visitors from Ngee Ann Polytechnic, Singapore on June 21 and 22 to talk about the possibility of international collaboration and related matters. Their names and affiliations are as follows:
Dr. Choo Min Lim, Senior Academic Advisor, Ngee Ann Polytechnic, Singapore.
Dr. Rajendra Acharya, Visiting Lecturer, Ngee Ann Polytechnic, Singapore, Adjunct Professor, University of Malaya, Malaysia, Adjunct Faculty, Singapore Institute of Technology – University of Glasgow, Singapore, Associated Faculty, Singapore University of Social Sciences, Singapore.
Mr. Andrew Thurairajah Sabaratnam, Senior Director – Technology, Innovation & Entrepreneurship, Coordinate Director – Smart Nation, Chairman – NP Global Consulting Pte Ltd, Director – NP Enterprise Pte Ltd.
From our side we invited three young excellent researchers. Their name and affiliations are as follows:
Dr. Tomohiko Igasaki, Associate Professor, Department of Computer Science and Electrical Engineering, Faculty of Advanced Science and Technology.
Dr. Masataka Nishimura, Assistant Professor, Faculty of Life Sciences.
Dr. Toshitaka Yamakawa, Assistant Professor, Priority Organization for Innovation and Excellence.
On June 21, the meeting started with the welcome address including the aim of the meeting by Dr. Hiyama, Director of IROAT. Then we moved to the introduction of research woks from both sides as follows:
"Ngee Ann Polyrectechnic (SoE) Achievements in Biomedical Health Informatics" by Dr. Acharya.
"Introduction of IROAST" by Dr. Hiyama, Director of IROAST.
"Motor related EEG studies towards neuro-rehabilitaion" by Dr. Igasaki.
"Importance of calculation speed for biological data analysis and effective techniques to enhance the speed" by Dr. Nishimura.
"Wearable and implantable sensor electronics for health and clinical care", Dr. Yamakawa.
After each presentation, we had the time for discussion and for exchanging ideas towards the future collaboration. It was really a nice fruitful meeting for both sides.
On June 22, the second day, we gathered together again for the closure of our meeting. There were important and fruitful talks among them for starting international collaborations: opening of international symposium at Ngee Ann Polytechnic together with IROAST in the area of biomedical health informatics, concluding MOU in the same area, exchanging young researchers, and so on.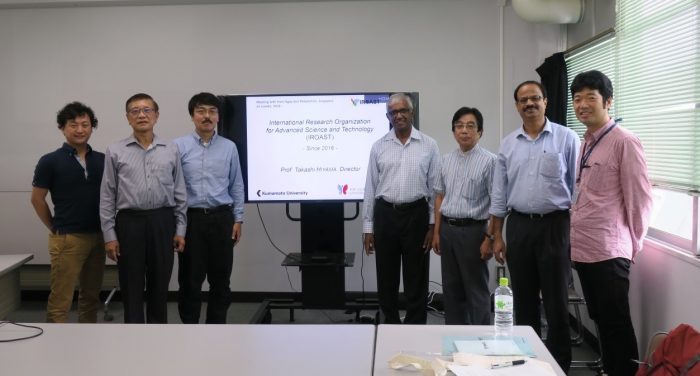 From the left, Dr. Yamakawa, Dr. Lim, Dr. Nishimura, Mr. Sabaratnam, Dr. Hiyama, Dr. Acharya, and Dr. Igasaki.