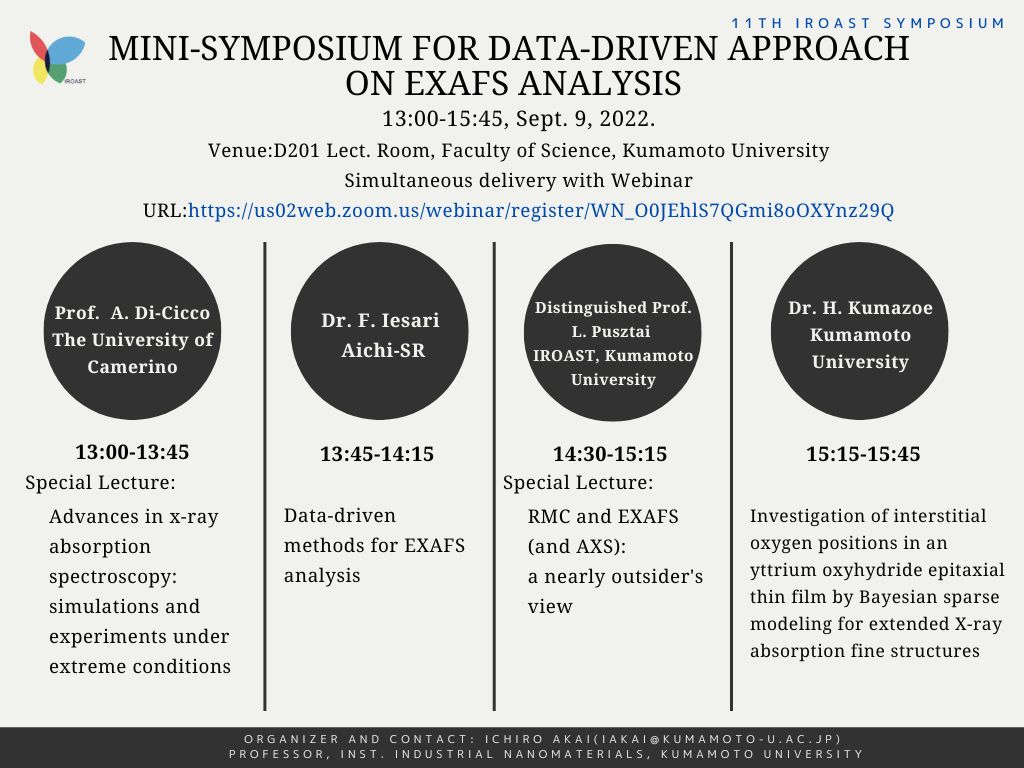 国際先端科学技術研究機構(IROAST)では、産業ナノマテリアル研究所所属、赤井一郎教授によるミニシンポジウムを開催します。
CREST「情報計測」領域における赤井プロジェクトでは、イタリア・カメリーノ大学との国際連携により、EXAFSのデータ駆動型分析手法の深化を目指しています。本シンポジウムでは、その国際連携の一環として、A. Di-Cicco 教授(カメリーノ大学)と、RMC開発者のL. Pusztai 教授(熊本大学IROAST卓越教授)による、特別講演を行います。また、EXAFS解析の新しいデータ駆動型研究のトピックスも紹介します。興味のある方はどなたでもご参加いただけます。多くの皆様のご参加をお待ちしております。
                 Zoom ウェビナー:
                  https://us02web.zoom.us/webinar/register/WN_O0JEhlS7QGmi8oOXYnz29Q
           (ご参加の際は、お名前とご所属を記載ください。)
       *このシンポジウムは英語にて行われます。
世話人・お問い合わせ:赤井一郎 (iakai@kumamoto-u.ac.jp),
                                             熊本大学・産業ナノマテリアル研究所・教授
自然科学系事務課 国際先端科学技術研究機構(IROAST)
担当Tel:096-342-3362 佐藤
 E-mail: szk-kiko@jimu.kumamoto-u.ac.jp
--------------------------------------------------------------------------------
The International Research Organization for Advanced Science and Technology (IROAST) is pleased to announce a mini-symposium by Professor Ichiro Akai, Institute of Industrial Nanomaterials (IINa).
Akai project of the CREST area for "Intelligent Measurement Analysis", aims to deepen data-driven analysis methods for EXAFS in international collaboration with the University of Camerino, Italy. As part of the international collaboration, we invited Prof. A. Di-Cicco (the University of Camerino) and Prof. L. Pusztai, developer of RMC (Distinguished Prof. of IROAST in Kumamoto University) for special lectures in this mini-symposium. In addition, topics of our new data-driven researches for EXAFS analysis will be presented. All interested parties are welcome to attend. We look forward to seeing many of you there.
Date & Time: Friday, September 9, 2022 13:00-15:45 (JST)
Style: Hybrid
Venue:
Kurokami South E3 (Faculty of Science Bldg. 3), No.71-2F, Room D201
https://www.kumamoto-u.ac.jp/campusjouhou/map_kurokami_2
     Zoom Webinar:
           https://us02web.zoom.us/webinar/register/WN_O0JEhlS7QGmi8oOXYnz29Q
   *Please put your name and affiliation when you log in.
     *This workshop will be held in English.
Organizer & Inquiry: Ichiro AKAI ( iakai@kumamoto-u.ac.jp )
          Professor, Inst. Industrial Nanomaterials, Kumamoto University
Sato, International Research Organization for Advanced Science and Technology (IROAST)
Tel: 096-342-3362
E-mail: szk-kiko@jimu.kumamoto-u.ac.jp