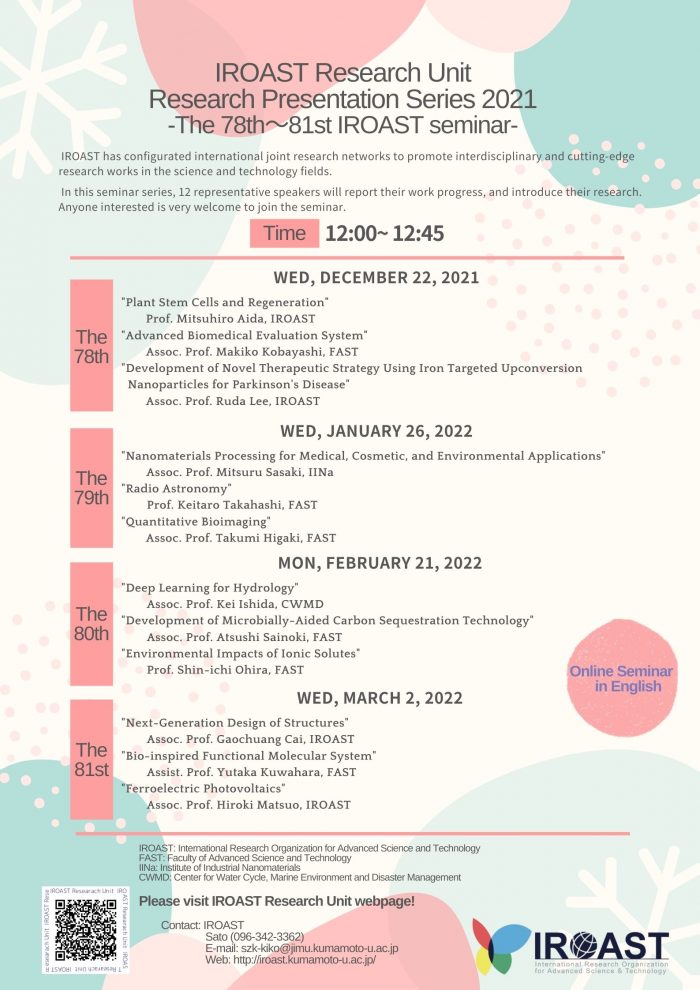 IROAST will hold the 3rd Session of the IROAST Research Unit Research Presentation Series FY2021-The 80th IROAST seminar- as described below.
■Date&Time: February 21, 2022, 12:00~12:45 JST
■Style: Online seminar by Zoom
The seminar is held in English
■Presenters&Unit name:
Kei ISHIDA, Associate Professor, CWMD
-- Deep Learning for Hydrology --
Atsushi SAINOKI, Associate Professor, FAST
--Development of Microbially-Aided Carbon Sequestration Technology --
Shin-ichi OHIRA, Professor, FAST
--Environmental Impacts of Ionic Solutes --
*5 mins Q&A after each presentation.
*CWMD: Center for Water Cycle, Marine Environment and Disaster Management
*FAST: Faculty of Advanced Science and Technology
*Please refer to the following poster regarding the Seminar Series schedule for the subsequent sessions!
■Inquiry:
Sato (Ms.) /ext. 3362
International Research Organization for Advanced Science and Technology (IROAST)
E-mail: szk-kiko@jimu.kumamoto-u.ac.jp