On November 11th, 2021, IROAST Distinguished Professor Yufeng ZHENG will give a lecture at the 13th seminar of "Joint Invited Speaker Seminar Series for Future Medicine" co-hosted by KAIST-GSMSE and IRCMS at Kumamoto University.
*KAIST-GSMSE:  Graduate School of Medical Science and Engineering, Korea Advanced Institute of Science and Technology
*IRCMS: International Research Center for Medical Sciences
When you click
here for the details, the page will jump to the website of IRCMS.
↓↓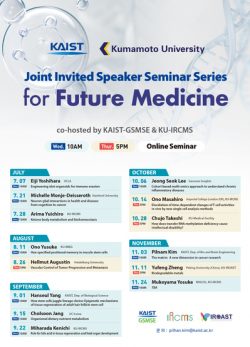 ---
The IROAST's own research shows that Distinguished Prof. Yufeng Zheng (Peking University) published a paper in Biomaterials in 2017 that was highly regarded as a high-impact paper. Distinguished Prof. Yufeng Zheng is developing a new zinc-based biomedical metallic material with excellent mechanical properties, biodegradability, and biocompatibility. It is expected to be applied to personalized precision medicine such as cardiovascular stents in the future.
Evolution of the degradation mechanism of pure zinc stent in the one-year study of rabbit abdominal aorta model
Hongtao Yang, Cong Wang, Chaoqiang Liu, Houwen Chen, Yifan Wu, Jintao Han, Zichang Jia, Wenjiao Lin, Deyuan Zhang, Wenting Li, Wei Yuan, Hui Guo, Huafang Li, Guangxin Yang, Deling Kong, Donghui Zhu, Kazuki Takashima, Liqun Ruan, Jianfeng Nie*, Xuan Li*, Yufeng Zheng*
Biomaterials, 145, 92-105, 2017.
https://www.sciencedirect.com/science/article/pii/S014296121730532X?via%3Dihub