English     Japanese
Two dimensional molecular materials for next generation
Research on new materials created by the fusion of chemistry and physics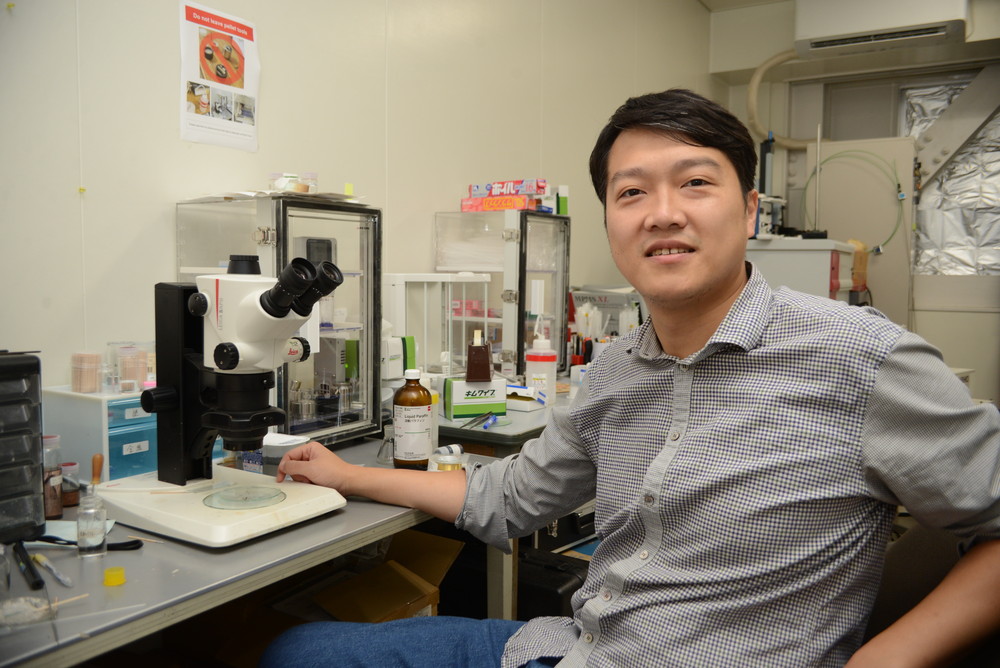 Assoc. Prof. Zhongyue Zhang
International Research Organization for Advanced Science and Technology (IROAST)
(Period at IROAST: from January 2023)

---
After graduating from Peking University, Associate Professor Zhongyue Zhang spent five and a half years at A&M University in Texas, USA, and about 10 years at Nagoya University, Japan, before coming to IROAST at the beginning of 2023. Currently, he specialized in two dimensional molecular materials in chemistry and physics, which is currently in the spotlight as a material for next-generation semiconductors and superconductors. He talked to us about the difficulties and real joys of his research and the research environment at IROAST.
■ Two-dimensional molecular materials attracting attention as new materials for semiconductors, etc.
Q: Please tell us about the content of your research.
Zhang: My research mainly involves the preparation of novel two-dimensional materials, especially molecule materials. It is well known that, graphene is gathering attention as a next-generation semiconductor and superconductor materials. and has been changing the whole game of solid-state physics and more than electronic materials as it shows a very large potential. Lots of chemists are thinking if it is possible to make such a kind of material from a synthetic perspective. My research is also involving such kind of topics and we are trying to use different synthetic strategies to prepare two-dimensional molecular materials that have shared the same topology and electronic properties as graphene. In addition, using different motivations and approaches, we are looking for novel materials that can be used as the new next-generation of semiconductors and in quantum computing.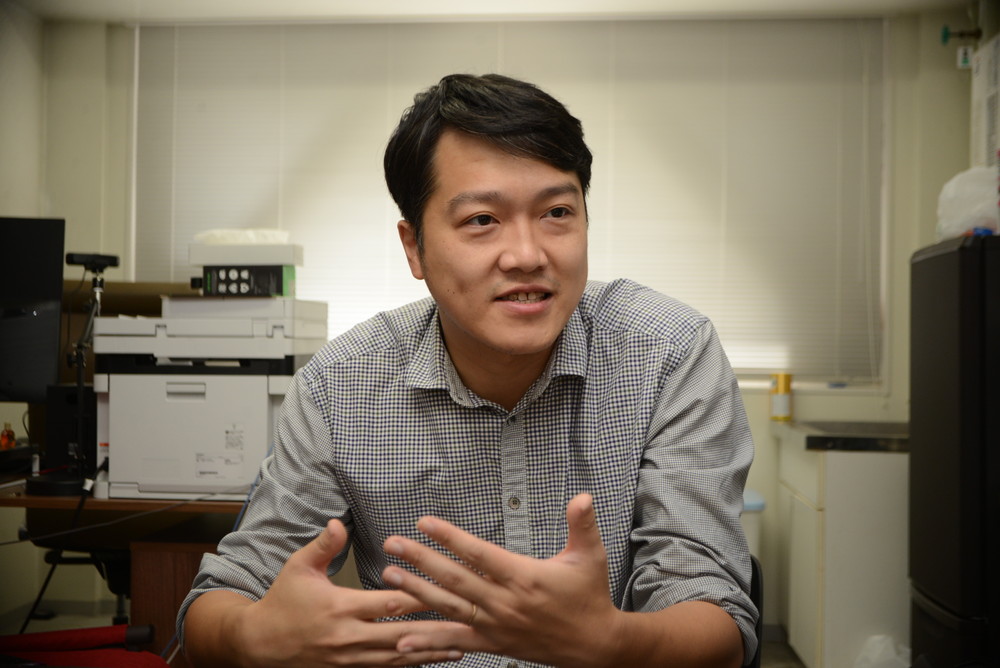 Q: Why did you start this research?
Zhang: When I was a student, I was trained in the field of, so called, organic conductors and organic superconductors. That field actually is, I think, the only field that combines chemistry and physics. Chemistry is to prepare materials, but now we have philosophy of how to get interesting physical properties such as semiconductors, superconductors, and for example, like spin liquid behaviors from organic materials. This is very interesting to me and I decided to begin this research. I am working on the coordination chemistry, therefore I also want to combine such kind of philosophy from both chemistry and physics and try to develop my own research directions.
Q: What do you find interesting or difficult about your research?
Zhang: What I find interesting is that when I talk about my research with researchers in other fields, they are surprised and say "oh, this is even possible." And they are really interested in my research on new materials related to semiconductors and superconductors.
At the same time, this research is a challenging field that combines science and physics and requires knowledge of both. I have a background in chemistry, and not much training in physics. On the other hand, when we collaborate with some physicists, they are not well trained as chemists. So, when we are discussing about the new research, we must make sure whether we understand each other. Especially, if we have to put everybody on the same page and try to figure things out.
Also, we have to encounter something that has not been reported in literature many times. When we face something new, we must think about a new model. This is really challenging, because we are really getting into something nobody understands. But I think that is an important part of research. We always try to figure out something that nobody has done before. This is the difficulty but we are trying to overcome it with knowledge. Discovering something is always exciting. Especially, if we establish new concepts or new phenomena that have never been seen in the world, of course, this is very exciting.
■ IROAST is a good place combining the best of the Japanese and Western research environment.
Q: How do you think about IROAST?
Zhang: If you look at the system of IROAST, it is more like a training camp. It provides a very good chance for young researchers to become independent researchers, and of course, provides a lot of research funds. IROAST provides me with chances to discuss with other researchers and chances to access and collaborate with people from the different backgrounds, different cultures and different countries. This leads to collaborative research. I think it is pretty nice, because there is not so much such chance in the traditional Japanese system. IROAST merges the Japanese system and the American or European system.
My own main reason for coming to IROAST was to not only conduct new research, but also to build an international platform. I thought it would be a chance to promote interdisciplinary research with researchers from other fields. I have been at IROAST for about 8 months now, and in fact, I have had the opportunity to discuss my research with international researchers and get tips that lead to new ideas. From this, I have decided to build a new molecular electronics research cluster, and I am now preparing for it.
Q: What is your impression of Kumamoto University?
Zhang: When I started working with students here, I realized it was a bit different from the students whom I have seen at other places. One of the differences is that Kumamoto University students are very eager to communicate, and they would like to talk and share their feelings, and would like to win if they have some opinions. They obviously do not have enough knowledge as they are still students. That is why the willingness to communicate is the most important thing. If the students try to stay away from us and don't ask anything even if they don't understand, it causes big problems because we cannot get to know how to teach or train them. But Kumamoto University students really want to talk and when they are not happy or they don't understand and have troubles, they come to discuss them with me. This is a good thing of Kumamoto University.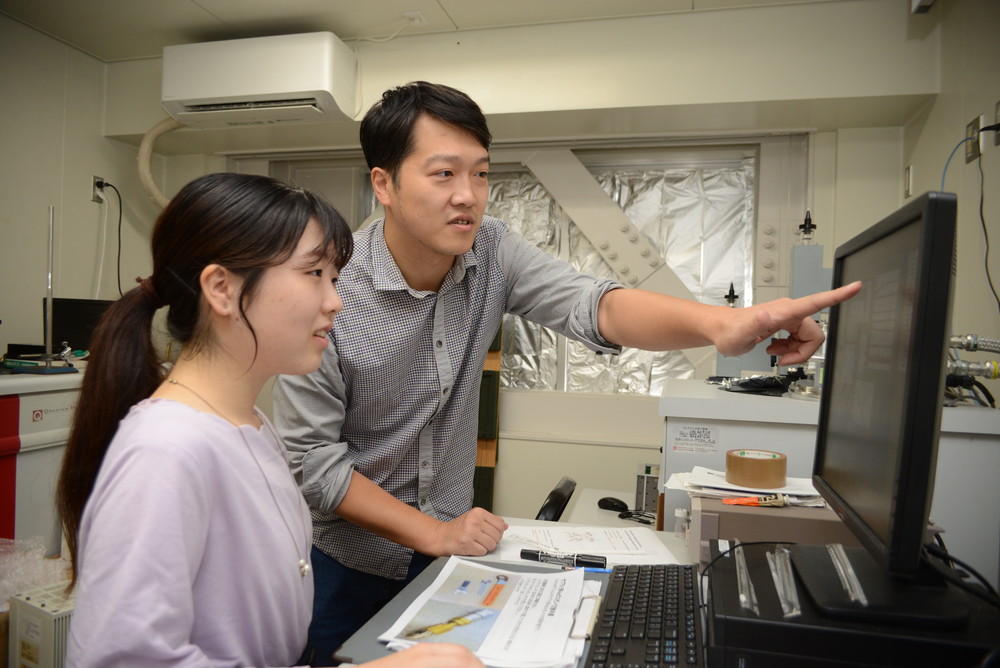 ■ If you want to grow as a researcher, I want you to come to IROAST.
Q: How do you spend your holidays?
Zhang: I spent days off with my family and did nothing special when I was in Nagoya before joining IROAST. Now, I am waiting for my family coming to Kumamoto from Nagoya next spring. I basically just take a rest and read something about research at places like coffee shops.
Q: What is your message to researchers who want to work at IROAST?
Zhang: If you want to experience something different and challenge yourself, IROAST is a really good place. It gives you freedom to challenge yourself and lets you try something new. In addition, IROAST always encourages young researchers to be rather independent and to play a different role in this academic society in various aspects, including funding.
In other places, you might not be able to have such chances as a postdoc or assistant professor, but you definitely have those chances here. I want to say, if you want to step out of your comfort zone, and don't want to just follow the instructions but want to be responsible for yourself, come to IROAST.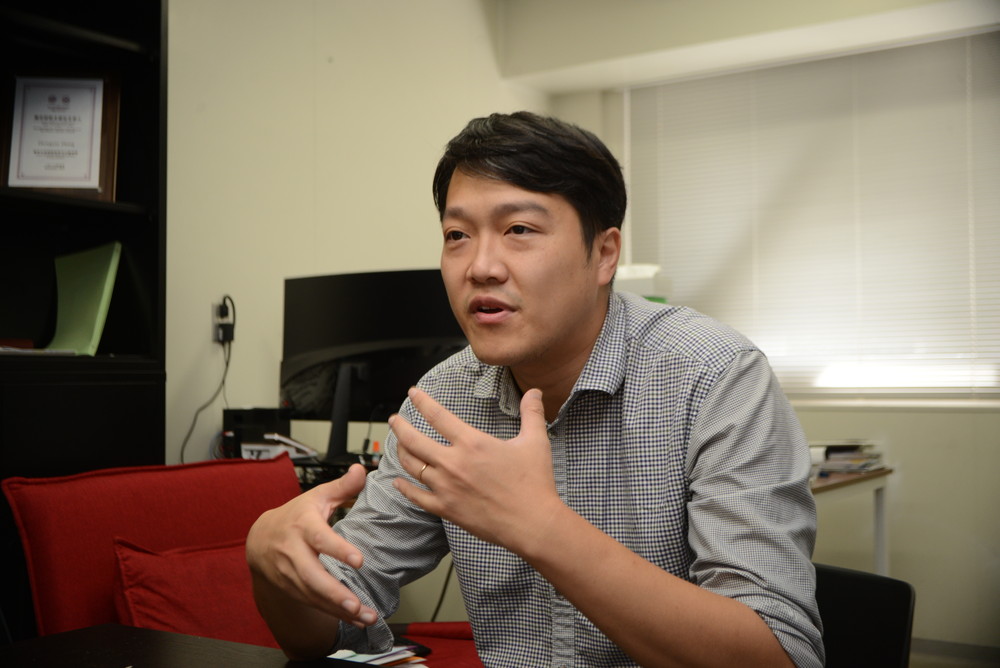 ---
Related links
- IROAST Staff - Tenure-track associate professor