Prof. Josep-Lluís Barona-Vilar (University of Valencia, Spain), a Visiting Professor at IROAST, and Dr. Aichurok Tashmatovna Mazhitova (Kyrgyz-Turkish Manas University) visited Director Takashima with their host professor, Prof. Makoto Takafuji.
Dr. Barona-Vilar has been a visiting professor at IROAST since 2016 and comes to Kumamoto University every year to give lectures to students, provide research guidance to young researchers, and discuss international collaborative research. Unfortunately, due to COVID-19, we have been limited to online exchanges for the past few years, but we were pleased to be able to meet each other in person after a long absence. He will give lectures at the 88h and 89th IROAST Seminar on November 29 and December 2, respectively.
Dr. Mazhitova is working in Takafuji lab from this past July to January, 2023. Kyrgyz-Turkish Manas University, where she belongs, and Kumamoto University signed a Department-level Exchange Agreement in 2016 and a University-level Exchange Agreement in 2022.
During their visit, we discussed about researcher exchanges and acceptance of international students among universities and expressed our expectations for the future.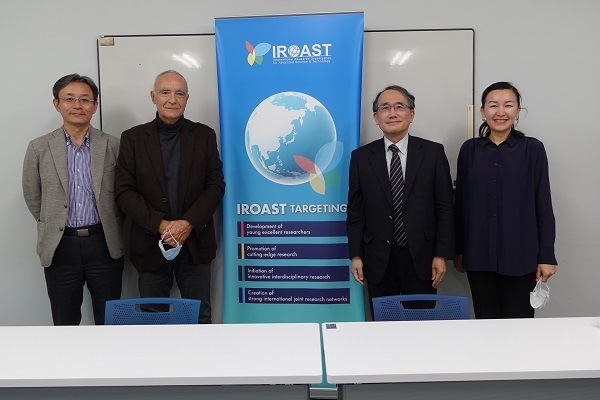 (From left, Dr. Takafuji, Dr. Barona-Vilar, Dr. Takashima, and Dr. Mazhitova)