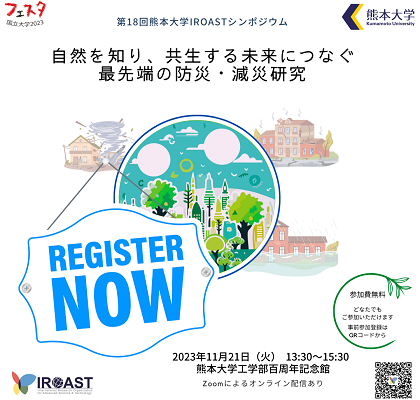 熊本大学国際先端科学技術研究機構(IROAST)が11月21日に開催する第18回シンポジウム「自然を知り、共生する未来につなぐ 最先端の防災・減災研究」の特設サイトを開設し、事前参加登録の受け付けを開始しました。
会場参加またはオンライン参加をされる方はお手数ですが、下記サイトから事前登録をお願いいたします。
事前登録いただくと、各講演の抄録、特別研究員によるポスター発表の概要をご確認いただけます。
シンポジウムの詳細はこちら
International Research Organization for Advanced Science and Technology (IROAST) has opened a special website and started accepting pre-registration for the 18th Symposium to be held on November 21, 2023.
Those who will attend the symposium on-site or participate online, please pre-register at the website below.
Once pre-registered, you will be able to see abstracts of each presentation and an outline of the poster presentations by the IROAST Postdoctoral Researchers.
Click here for details of the symposium.
The 18th IROAST Symposium - Cutting-edge Research on Disaster Prevention and Mitigation – Understanding Nature, Harmonizing with Nature, and Leading to a Safe and Secure Future -
Date & Time: Kumamoto University Engineering 100th Anniversary Memorial Hall
Venue: The 100th Anniversary Memorial Hall
   Online streaming by Zoom will be also available.
Pre-registration URL:  https://poster.kumamoto-u.ac.jp/user/seminar/index.php?sId=59
Registration: Until Thursday, November 30, 2023