Dr. Hoai Thi TA, a lecturer at VNU University of Science, Vietnam National University, Hanoi (VNU-HUS), came to Kumamoto from Vietnam for the IROAST Research Internship Program, and paid a courtesy visit to Director Kazuki TAKASHIMA together with her host faculty member, Prof. Toshifumi MUKUNOKI on August 29.
Dr. TA has an experience to participate in the "Kumamoto University Summer Program" during her master's course in Vietnam and to enroll in the MUKUNOKI Lab as an exchange student.
She then completed her doctoral course of Kumamoto University under Prof. MUKUNOKI's guidance. After her return to Vietnam, she has continued to collaborate with Prof. MUKUNOKI, and has published several joint papers with him.
She has already started the program remotely since last month before visiting Japan and will stay at Kumamoto University for about 8 weeks to pursue the hands-on research activity under Prof. MUKUNOKI's supervision.
We hope she will be able to enjoy staying in Kumamoto and promote joint research with Prof. MUKUNOKI.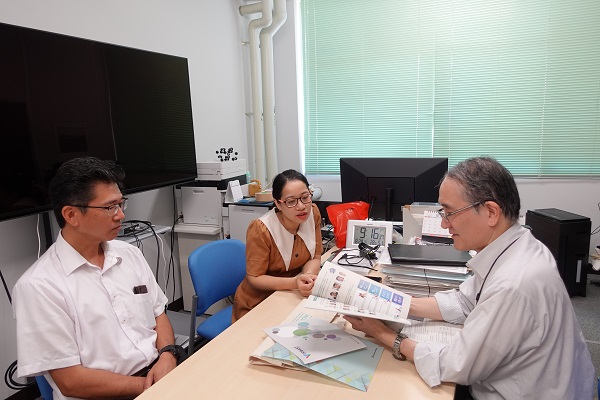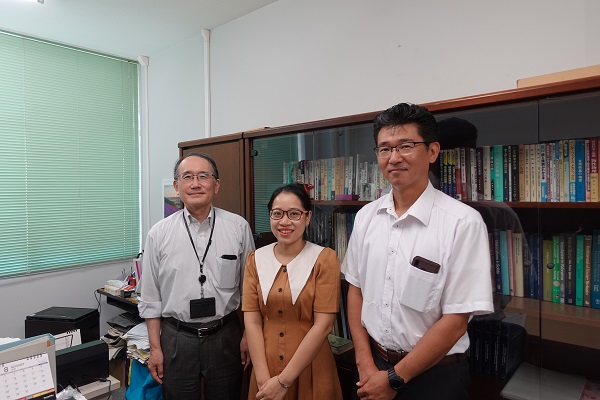 (From left, IROAST Director Takashima, Dr. Ta, and Prof. Mukunoki)