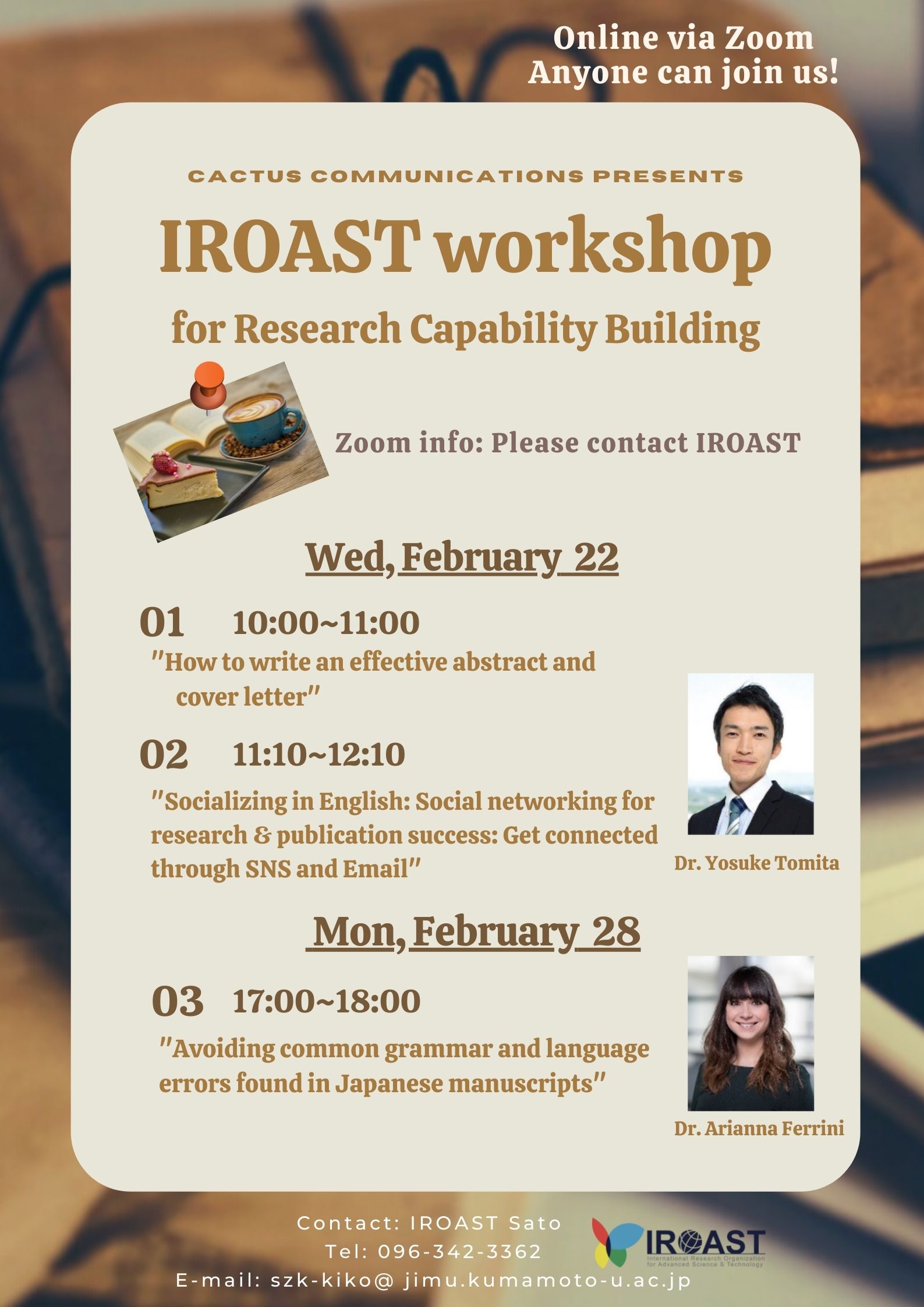 〈--English follows Japanese--〉
本学の研究力向上の一環として、下記のとおり「研究力向上のためのワークショップ」を英語にて開催します。
第1回では、論文執筆に欠かせない効果的なアブストラクトの作成方法、SNSやメールでの情報発信について2コマに渡り、解説します。第2回では、外国人から見た日本人が間違え易い英語表現について説明します。
本学の教職員及び学生で研究力向上を目指す方であればどなたでもご参加いただけます。多くの皆様のご参加をお待ちしております。
開催形式: Zoomによる英語でのオンラインワークショップ
開催日時・講演者・トピック:
第1回     2022年2月22日(火)
10:00~11:00



   

効果的なアブストラクトとカバーレターの書き方

・・・・・・・・・ 休憩 ・・・・・・・・・・・・・・・・・・・・・・・・・・・・・・・・・・・・
11:10~12:10
   

英語での社交術を学ぶ:研究や出版を成功させるための




            ソーシャルネットワーキング方法/SNSとメールでつながる
講師: 冨田 洋介氏(カクタスコミュニケーションズ株式会社)
---
第2回  2022年2月28日(月)
| | |
| --- | --- |
| 17:00~18:00 |    日本人研究者が間違えやすい文法ミスや表現を避ける方法 |
講師: アリアナ フェリーニ氏(カクタスコミュニケーションズ株式会社)
---
講師の経歴等はこちらからご覧下さい
※Zoomミーティング及びパスコードは下記までお問い合わせください。
※事前参加登録は不要です。また興味のあるセミナーのみの参加も可能ですので、ぜひお気軽にご参加ください。
【問い合わせ先】
自然科学系事務課 国際先端科学技術研究機構(IROAST)担当
Tel:096-342-3362 佐藤
E-mail: szk-kiko@jimu.kumamoto-u.ac.jp
-----------------[English version]--------------------------------------------------------------
International Research Organization for Advanced Science and Technology (IROAST) presents Workshops for Research Capability Building in English for anyone in KU.
In the first workshop, an effective abstract and cover letter that are essential to submit the papers, and the communication method such as how to appeal your research on social networking services will be lectured in two parts. English expression that the Japanese tend to make a mistake will be lectured in the second workshop.
Please join us for your own good!
Style: Online workshop via Zoom, Held in English
Date & Time・Lecturers・Topics:
(The first workshop)
Tue, February 22, 2022, Dr. Yosuke Tomita, Cactus Communications
10:00~11:00

       How to write an effective abstract and cover letter
・・・・・・・Break ・・・・・・・・・・・・・・・・・・・・・・・・・・・・・・・・・
11:10~12:10

       Socializing in English: Social networking for research & publication success:
       Get connected through SNS and Email
(The second workshop)
Mon, February 28, 2022, Dr. Arianna Ferrini, Cactus Communications
17:00~18:00      Avoiding common grammar and language errors found in Japanese manuscripts
Inquiries:
Sato, International Research Organization for Advanced Science and Technology (IROAST)
Tel: 096-342-3362
E-mail: szk-kiko@jimu.kumamoto-u.ac.jp