Professional Education
Ph.D., Korea University, School of Medicine (2013)
Research Training
| | |
| --- | --- |
| 2017-present | Associate Professor (Kumamoto University, Japan) |
| 2014-2016 | Postdoctral fellow (IIT, Italy) |
| 2013-2014 | Postdoctral fellow (KIST, Korea) |
| 2009-2013 | MS & Ph.D course trainee (KIST, Korea) |
| 2008-2009 | Research Assistant (KIST, Korea) |
Selected peer-reviewed publications
Lee A et al. Early diagnosis of arthritis in mice with collagen-induced arthritis, using a fluorogenic MMP 3-specific polymeric probe. Arthritis Rheum 2011
Lee A et al. Measurement of MMP Activity in Synovial Fluid in Cases of Osteoarthritis and Acute Inflammatory Conditions of the Knee Joints Using a Fluorogenic Peptide Probe-Immobilized Diagnostic Kit. Theranostics 2012
Lee A et al. A novel near-infrared fluorescence chemosensor for copper ion detection using click ligation and energy transfer. Chem Comm. 2013
Lee A et al. TNF-α Gene Silencing Using Polymerized siRNA/Thiolated Glycol Chitosan Nanoparticles for Rheumatoid Arthritis. Mol Ther 2014
Lee A et al. Spherical Polymeric Nanoconstructs for Combined Chemotherapeutic and anti-Inflammatory Therapies. Nanomedicine : NBM 2016
Lee A et al. Dexamethasone-loaded nanoconstructs for treating and monitoring inflammation in murine colitis models. Theranostics 2017
Lee A et al. Visualization of MMP-2 Activity Using Dual-Probe Nanoparticles to Detect Potential Metastatic Cancer Cells. Nanomaterials 2018
Kim MW et al. Anti-EGF Receptor Aptamer-Guided Co-Delivery of Anti-Cancer siRNAs and Quantum Dots for Theranostics of Triple-Negative Breast Cancer. Theranostics 2019 (co-author)
Ueno S et al. Development of ErbB2-Targeting Liposomes for Enhancing Drug Delivery to ErbB2-Positive Breast Cancer. Pharmaceutics 2020 (Corresponding)
Park YI et al. pH-sensitive multi-drug liposomes targeting folate receptor β for efficient treatment of non-small cell lung cancer.Journal of Controlled Release 2021 (Corresponding)
Research interest
Research in the Lee lab develops novel molecular imaging sensors and multifunction drug delivery carriers for 'Theragnosis' (Therapy + Diagnosis).
1. Enzyme specific activated imaging sensor based real-time in vivo imaging
Proteases are among the most studied enzyme families due to their involvement in the regulation of diverse disease processes and their potential value as biomarkers and therapeutic targets. We reported various protease target Near-infrared fluorescence (NIRF) imaging sensors and detecting pathologic processes at the cellular and molecular levels in vivo, such as cancer, arthritis, brain disorder and inflammation.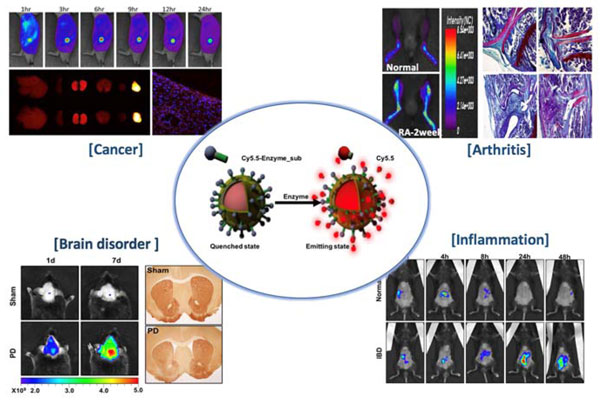 2. Active targeting drug delivery nanomaterials
Active targeted drug delivery material delivers a therapeutic and/or diagnostic agent to a targeted diseased area. Drug-loaded nanomaterials (NPs) are decorated by the peptide, aptamer, antibody for recognition by specific receptors/antigens on target cells. In this strategy, NPs can avoid non-specific biodistribution, reducing cytotoxicity and treatment dosage. It could provide patients to have chances of effective therapeutic treatment.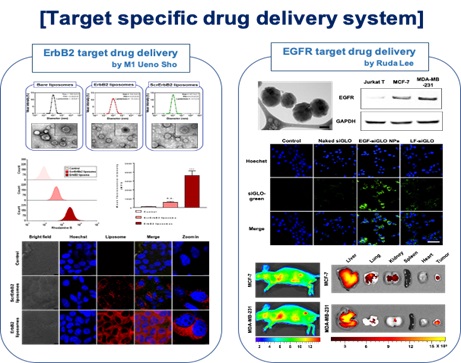 3. Stimuli responsive controlled drug release system
Owing to precise stimuli response, stimuli-responsive DDSs can control drug release, so as to improve the curative effects, reduce the damage of normal tissues and organs, and decrease the side effects of traditional anticancer drugs. We designed endogenous stimuli-responsive materials (pH, enzyme and redox responsive) and exogenous stimuli-responsive materials (such as light and ultrasound).
Lab members
-  Associate Prof.
Ruda Lee
-  Students
M2
Sho Ueno
M1
Naoki Furutachi
M1
Sho Tanigawa
B4
Miu Goto
B4
Nozomi Koga
Lab members