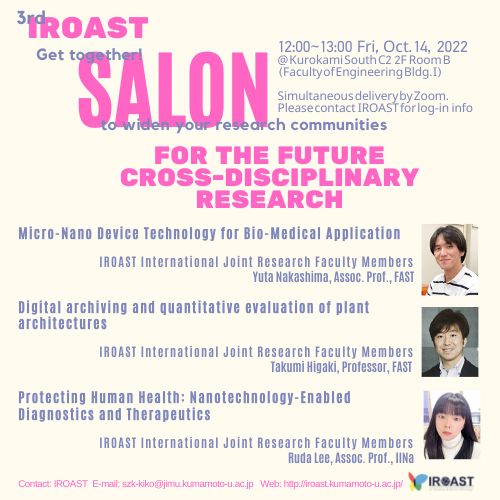 国際先端科学技術研究機構(IROAST)では、分野を超えた研究者同士の情報交換の場を設け、継続的な交流促進・研究意欲を高めるとともに、新しい発想や着眼点を見いだし、学内共同研究への発展へ繋げることを目的に、未来に向けた学際研究サロンを下記のとおり開催します。
異分野融合に興味のある方など、どなたでもご参加頂けます。事前登録は不要です。
多くの皆さまのご参加をお待ちしております。
 ■日 時:2022年10月 14日(金) 12:00~13:00
 ■会 場:黒髪南C2(工学部1号館) 2階 会議室B
 https://www.kumamoto-u.ac.jp/campusjouhou/map_kurokami_2
Zoomによるオンライン配信も行います。ログイン情報はIROASTへお尋ねください
 ■演題&発表者:
 "Micro-Nano Device Technology for Bio-Medical Applications(医療・バイオ応用を目指したマイクロ・ナノデバイス技術)"

中島 雄太 准教授 大学院先端科学研究部(工)

"Digital archiving and quantitative evaluation of plant architectures(草姿のデジタルアーカイビングと定量解析)"

檜垣 匠 教授  大学院先端科学研究部(理)

"Protecting Human Health: Nanotechnology-Enabled Diagnostics and Therapeutics"

Ruda Lee 准教授 産業ナノマテリアル研究所
*各人10分程度の発表後、質疑応答を含むディスカッションタイムを設けます。
  ■言 語:英語もしくは日本語
このサロンは月に1回程度の開催を予定しております。
全シリーズの発表者については、こちら(pdf)をご覧ください。
【問い合わせ先】自然科学系事務課 国際先端科学技術研究機構(IROAST)担当
        Tel:096-342-3362 佐藤
        E-mail: szk-kiko@jimu.kumamoto-u.ac.jp
-------------------------------------------------------------------------------------------------------
The International Research Organization for Advanced Science and Technology (IROAST) will hold the Salon for the Future Cross-Disciplinary Research to provide an opportunity for exchange of information among researchers across disciplines.
By promoting ongoing exchanges, we aim to increase research motivation, discover new ideas and points of view, and develop intra-university joint research.
Everyone is welcome to join, including those interested in cross-disciplinary research. Pre-registration is not required. We look forward to seeing you there.
■Date & Time: Fri, October 14, 2022   12:00-13:00
■Venue: Kurokami South C2 (Faculty of Engineering Bldg. I) 2F Room B
https://ewww.kumamoto-u.ac.jp/en/about/access/campus/
Simultaneous delivery by Zoom.
We will also broadcast online via Zoom. Please contact IROAST for log-in information.
■Title & Presenters:
 "Micro-Nano Device Technology for Bio-Medical Applications(医療・バイオ応用を目指したマイクロ・ナノデバイス技術)"

Yuta Nakashima, Associate Professor, FAST

"Digital archiving and quantitative evaluation of plant architectures(草姿のデジタルアーカイビングと定量解析)"

 Takumi Higaki, Professor, FAST

"Protecting Human Health: Nanotechnology-Enabled Diagnostics and Therapeutics"

Ruda Lee, Associate Professor, IINa
  *FAST: Faculty of Advanced Science and Technology    IINa: Institute of Industrial Nanomaterials
*After each presentation for about 10mins, discussion time will start including Q&A
 
■Language: English or Japanese
We will hold this salon about once a month.
Please check here (pdf) for the presenter of all series.
Inquiries:
 Sato (Ms.), International Research Organization for Advanced Science and Technology (IROAST)
Tel: 096-342-3362
E-mail: szk-kiko@jimu.kumamoto-u.ac.jp