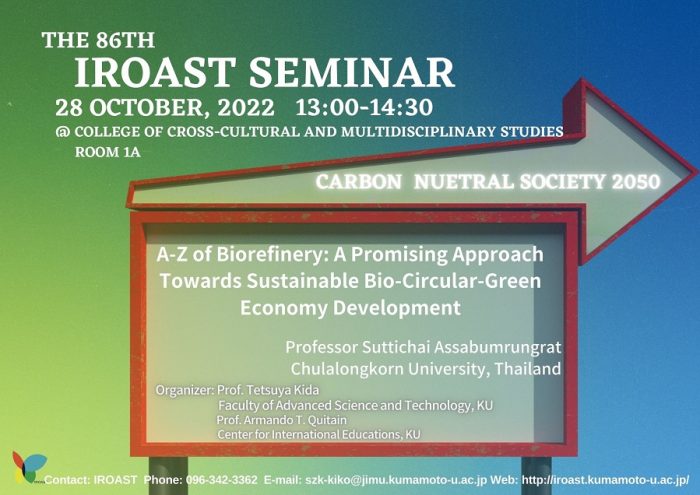 IROAST will have the 86h IROAST Seminar by Professor Suttichai Assabumrungrat (IROAST Visiting Professor), Chulalongkorn University in Thailand, as follows.
Anyone interested in this seminar is more than welcome. Registration is not required.
We hope to see you at the seminar.
 国際先端科学技術研究機構(IROAST)では、チュラーロンコーン大学所属のSuttichai Assabumrungrat先生(IROAST客員教授)による、The 86th IROAST Seminarを下記のとおり開催いたします。興味のある方はどなたでもご参加いただけます。多くの皆さまのご参加をお待ちしております。
 本セミナーは英語にて行います。事前登録は不要です。
1.  Date and time: October 28 (Fri), 2022
        日 時:令和4年10月28日(金)13:00-14:30
2.  Venue: Kurokami North E6: College of Cross-Cultural and Multidisciplinary Studies
                   (Center for International Education) Room 1A
                    https://ewww.kumamoto-u.ac.jp/en/about/access/campus/
        会 場:黒髪北 (32番) 多言語文化総合教育棟 1A教室
                       https://www.kumamoto-u.ac.jp/campusjouhou/kurokamikitaku
Zoomによるオンライン配信も行います。ログイン情報はIROASTへお尋ねください。
We will also broadcast online via Zoom. Please contact IROAST for log-in information.

3. Speaker:Professor Suttichai Assabumrungrat
                             Center of Excellence in Catalysis and Catalytic Reaction Engineering,
                             Department of Chemical Engineering, Faculty of Engineering, Biorefinery Cluster,
                             Bio-Circular-Green economy Technology & Engineering Center,
                             Department of Chemical Engineering, Faculty of Engineering,
                            
        講演者 : チュラーロンコーン大学工学部(タイ)
      スティッチャイ アッサブムルングラット教授
4.   Title演 題:A-Z of Biorefinery: A Promising Approach Towards Sustainable Bio-Circular- Green Economy Development
5.  Abstract概 要:
The concept of biorefinery is very important nowadays to support the Bio-Circular-Green Economy development and to achieve the United Nation's Sustainable Development Goals (SDGs). This talk will address some key important topics, i.e., overviews of biorefinery, biomass and biobased products, conversion of biomass to high-value products, downstream recovery and separation, process creation, design and analysis, and case studies.
Keywordsキーワード: Biorefinery; Sustainable Development Goals (SDG); Bio-Circular-Green Economy
6.  Organizer世話人:
   Prof. Tetsuya Kida (FAST/ Kumamoto University)
  木田 徹也 教授 (大学院先端科学研究部(工))
(Ext.内線:3664 Email:tetsuya@kumamoto-u.ac.jp)
   Prof. Armando T. Quitain (Center for International Education)
   キタイン アルマンド 教授(多言語文化総合教育センター)
(Ext.内線:2105 Email:quitain@kumamoto-u.ac.jp)
【IROAST Seminar inquiriesセミナーに関するお問合せ】
 Sato (ext.3362) 佐藤(内線:3362)
 Email:szk-kiko@jimu.kumamoto-u.ac.jp