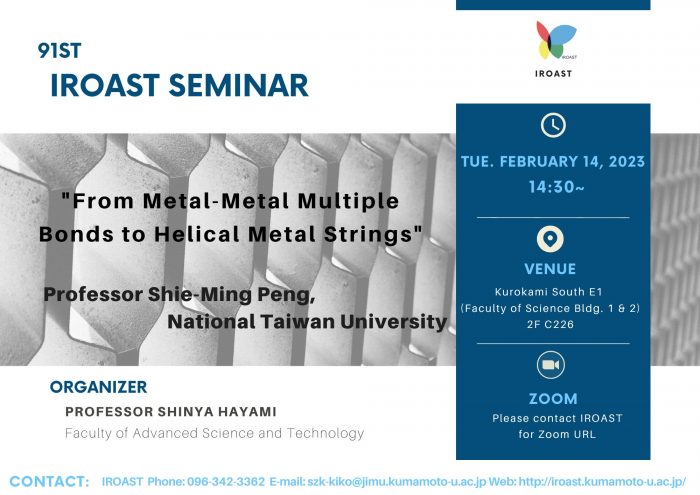 国際先端科学技術研究機構(IROAST)は、国立台湾大学所属、Shie-Ming Peng IROAST客員教授による、第91回IROAST セミナーを下記のとおり開催いたします。興味のある方はどなたでもご参加いただけます。多くの皆さまのご参加をお待ちしております。
 本セミナーは英語にて行います。事前登録は不要です。
1.日 時:令和5年2月14日(火)14:30-
2.会 場:黒髪南E1  69番 (理学部1・2号館) 2階 C226
                     *Zoomによる同時配信を行います。Zoomの詳細については、IROAST事務局までお問い合わせください。
3.講演者・演題 (Speaker & Title):
Professor Shie-Ming Peng, National Taiwan University, Taiwan 
"From Metal-Metal Multiple Bonds to Helical Metal Strings"
4.世話人: 速水 真也 教授 (大学院先端科学研究部)
                    (内線:3469 Email:hayami@kumamoto-u.ac.jp)
【IROASTセミナーに関するお問合せ】
佐藤(内線:3362)
Email: szk-kiko@jimu.kumamoto-u.ac.jp
---
IROAST will have the 91st IROAST Seminar by IROAST Visiting Professor, Professor Shie-Ming Peng, National Taiwan University, Taiwan as follows.
Anyone interested in this seminar is more than welcome. Registration is not required.
We hope to see you at the seminar.
Date and time: 14:30- on February 14 (Tue), 2023
Venue: Kurokami South E1 (Faculty of Science Bldg. 1 & 2) 2F C226
Simultaneous delivery by Zoom. For zoom information, please contact the IROAST office.
Speaker & Title

: Referred to above
Organizer: Prof. Shinya Hayami (FAST, Kumamoto University)
      Ext.: 3469 E-mail: hayami@kumamoto-u.ac.jp
Remarks: This seminar will be held in English.
Sato (ext.3362), IROAST Seminar inquiries
szk-kiko@jimu.kumamoto-u.ac.jp