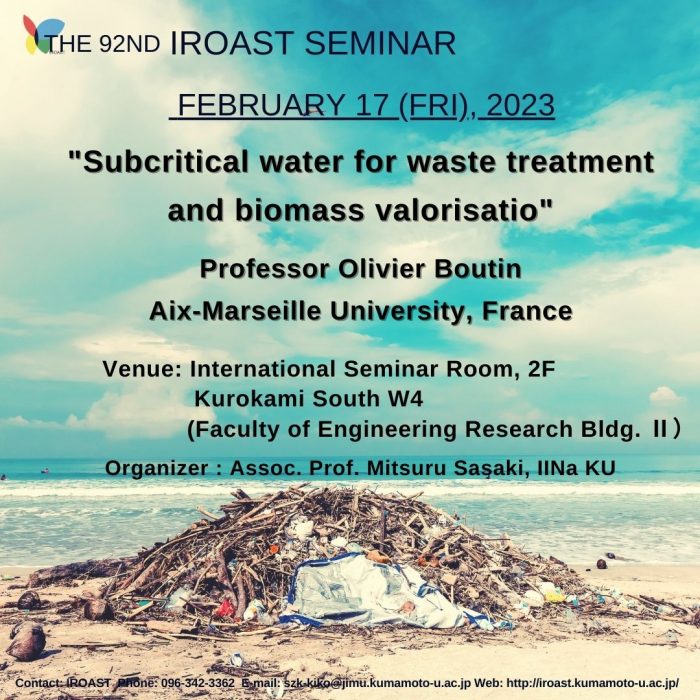 国際先端科学技術研究機構(IROAST)は、エクス=マルセイユ大学所属、Olivier Boutin IROAST客員教授による、第92回IROASTセミナーを下記のとおり開催いたします。興味のある方はどなたでもご参加いただけます。多くの皆さまのご参加をお待ちしております。
 本セミナーは英語にて行います。事前登録は不要です。
1.日 時:令和5年2月17日(金)14:00-15:00
2.会 場:黒髪南W4   51番 (工学部研究棟Ⅱ)(物質生命化学科) 2階 国際セミナー室 
3.講演者・演題 (Speaker & Title):
 Professor Olivier Boutin, Aix-Marseille University, France
"Subcritical water for waste treatment and biomass valorisation"
4.世話人: 佐々木 満 准教授 (産業ナノマテリアル研究所)
(内線:3666 Email:msasaki@kumamoto-u.ac.jp)
【IROASTセミナーに関するお問合せ】
佐藤(内線:3362)
Email: szk-kiko@jimu.kumamoto-u.ac.jp
---
IROAST will have the 92nd IROAST Seminar by IROAST Visiting Professor Olivier Boutin, Aix-Marseille University, France as follows.
Anyone interested in this seminar is more than welcome. Registration is not required.
We hope to see you at the seminar.
Date and time

: February 17 (Fri), 2023, 14:00-15:00

Venue

: International Seminar Room, 2F  Kurokami South W4 (Faculty of Engineering Research Bldg. II)

Speaker & Title

: Referred to above

Organizer

: Assoc. Prof. Mitsuru Sasaki (IINa*, Kumamoto University)
                   Ext.: 3666 E-mail: msasaki @kumamoto-u.ac.jp
※Remarks: This seminar will be held in English.
*IINa: Institute of Industrial Nanomaterials
IROAST Seminar inquiries: Sato (Ms.) (ext.3362)
                                                   szk-kiko@jimu.kumamoto-u.ac.jp