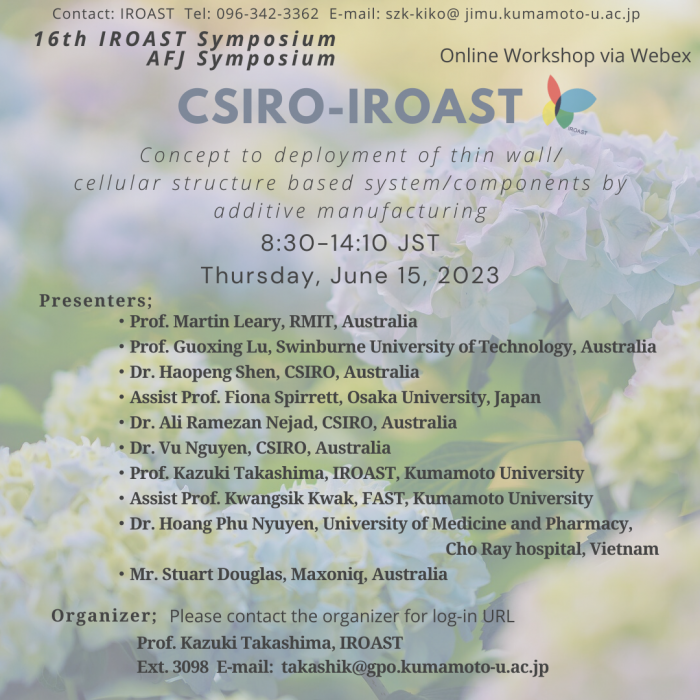 国際先端科学技術研究機構(IROAST)では、CSIRO Manufacturing (オーストラリア)と、2017年より国際共同研究を行っています。
本研究では、金属・複合材積層造形を始めとした新しい材料研究分野に関する国際連携の強化を図っています。
今回、両機関の研究者のみならず、多くの方に最新の進捗を共有し、協力関係を広く発展させることを目的に、下記のとおりシンポジウムを開催します。
興味のある方はどなたでもご参加いただけます。多くの皆様のご参加をお待ちしております。
1.  開催日時:2023年6月15日(木)8:30~14:10(日本時間)
2.  開催形式:オンライン(Webex)
  ※参加ご希望の方はURL等のログイン情報をお知らせしますので、3. 世話人までお尋ねください。
3.  世話人:高島 和希 教授(国際先端科学技術研究機構)
       内線: E-mail: takashik@gpo.kumamoto-u.ac.jp
(プログラムはこちら)
このワークショップは英語で開催されます。
【問い合わせ先】
自然科学系事務課 国際先端科学技術研究機構(IROAST)担当  佐藤
 E-mail: szk-kiko@jimu.kumamoto-u.ac.jp
---
The International Research Organization for Advanced Science and Technology (IROAST) has been conducting an international collaboration with the CSIRO Manufacturing Business Unit (Australia) since 2017.
This research aims to strengthen international collaboration on new areas of materials research, including metal and composite additive manufacturing.
We are pleased to announce the following symposium to share the latest progress with not only researchers from both institutions but also many others in KU, and to broadly develop the collaboration. All interested are welcome to attend. We look forward to seeing you.
 Date & Time: 8:30-14:10 (JST)  on  June 15 (Thursday), 2023
      2. Style: Online using Webex
         *If you wish to participate, please contact "3. Organizer" for further information such as log-in URL and password.
Organizer: Prof. Kazuki Takashima (IROAST)
                    E-mail: takashik@gpo.kumamoto-u.ac.jp
Please see Program for more details.
This workshop will be held in English.
Inquiries:
 Sato (Ms.), International Research Organization for Advanced Science and Technology (IROAST)
E-mail: szk-kiko@jimu.kumamoto-u.ac.jp