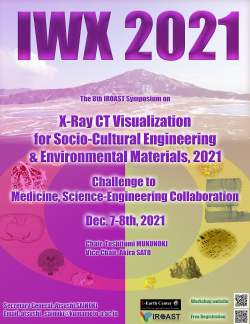 The International Research Organization for Advanced Science and Technology (IROAST), Kumamoto University, held the 8th IROAST Symposium online on December 7 and 8, 2021.
In this symposium, the most advanced research results of Kumamoto University (IROAST) using the "high-resolution nano-focused X-ray CT scanner" introduced by IROAST in FY 2020 were presented to the world, and discussions that will lead to the development of future international collaborative research were held with IROAST visiting professors and leading researchers in the fields of medicine, engineering, and science and technology from Japan and abroad.
In consideration of the time difference with experts from overseas, the two-day symposium was divided into two parts, one in the morning and the other in the evening.
A total of about 190 researchers and graduate students (including 67 non-Japanese) from France, Canada, Korea, the Czech Republic, China, New Zealand, Australia, the United States, Austria, Vietnam, Zambia, and Mauritius participated in the symposium, and a lively exchange of opinions took place.
Opening remarks, Kazuki Takashima,
Director of IROAST, Kumamoto University
Welcome speech, Toshifumi Mukunoki,
Head of X-EARTH Center (FAST*, Kumamoto University)
Organizer of the Symposium
Associate Professor Atsushi Sainoki (FAST*, Kumamoto University),
Moderater of the Symposium
*FAST: Faculty of Advanced Science and Technology