Dr. Zheng has arrived at IROAST!
Jun 23, 2017
Dr. Yufeng Zheng from Peking University, one of our IROAST distinguished professors, arrived at Kumamoto University on June 22 to start his work with IROAST.  He met with Director Hiyama, and they talked about his expected activities at IROAST. He will stay in Kumamoto University until middle of August this time. Anyone interested in his research, please knock on his door!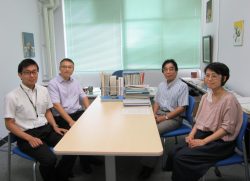 From left, Chief Kumagai, Prof. Zheng, Director Hiyama and Senior Administrator Morishita.