10th IROAST Seminar-International Symposium on PROTINUS-held on July 7, 2017
Jul 07, 2017
The 10th IROAST Seminar-International Symposium on PROTINUS-was held on July 7.
At the beginning of the Seminar, Professor Jun Otani, IROAST vice director, introduced the organization after his welcome speech. Then seven researchers including five belonging to PROTINUS from France and New Zealand gave talks. One of them was Dr. Patrice Delmas from University of Auckland, an IROAST's visiting professor. His presentation title was "Kriging in the context of soil science."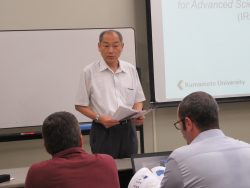 Introduction of IROAST by Prof. Otani
Prof. Delmas' Presentation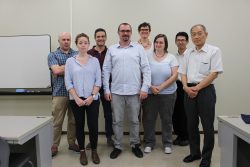 Speakers: from left,
Patrice Delmas, Serena Bertoni, Fabrice Golfier, Laurent Oxarango,
Celine Duwig, Anne-Julie Tinet, Toshifumi Mukunoki and Jun Otani.

July 7, 2017: 10th IROAST Seminar-International Symposium on PROTINUS
Jul 1, 2017
IROAST will hold the 10th IROAST Seminar-International Symposium on PROTINUS-at 905, Engineering Research Tower I on July 7, 2017.
Dr. Patrice Delmas, University of Auckland, New Zealand, one of the IROAST's visiting professors, and other researchers from overseas will give talks on their research. Interested researchers and students are welcome to attend the symposium. We hope to see many of you there.
Please see the program and speakers' introduction.
PROTINUS "PROviding new insighT into INteractions between soil fUnctions and Structure" is financed in the framework of a H2020 project (MSCA Research and Innovation Staff Exchange). The project assembles a multi-disciplinary team from the EU and three associated countries, namely France, Italy, Denmark, New Zealand, Mexico and Japan, coming from Research Institute and Universities as well as private companies. These teams combine advanced, experimental and theoretical research expertise in soil physics and chemistry, microbiology, image analysis, computer sciences, and systems modelling. In this time, 5 researchers who belongs to PROTINUS from France and New Zealand come to Kumamoto University for the fruitful discussion.
Please contact Professor Mukunoki below in advance when you attend the symposium.
Contact for International Symposium on PROTINUS: Assoc. Prof. Toshifumi Mukunoki
Email:
mukunoki@*
(Please change "*" to "kumamoto-u.ac.jp".)
Contact for IROAST seminar: IROAST Secretariat
Email:
szk-kiko@jimu.*
(Please change "*" to "kumamoto-u.ac.jp".)