The 3rd IROAST Symposium "Kumamoto Symposium on Advanced Nano and Supramolecular Materials" held on August 6, 2018
Aug 06, 2018
On Monday, August 6, the IROAST 3rd symposium titled "Kumamoto Symposium on Advanced Nano & Supramolecular Materials" was held at the 100th Anniversary Hall. The symposium was organized by Professor Shinya Hayami, Faculty of Advanced Science and Technology. This symposium started with a welcome and opening address by  IROAST  Vice Director Takashi Hiyama. Following this, 14 researchers from Japan and other 7 countries including UK, Australia, Germany and South Korea made presentations. Examples of today's cutting-edge researches were introduced and the participants shared information on them and deepened their understanding through proactive discussions. The day ended with an address from IROAST Visiting Professor Yang Kim.
| | | |
| --- | --- | --- |
| Vice Director Hiyama | Prof. Lindoy | Prof. Comba |
| Prof. Lipkowski | Prof. Jung | Prof. Halcrow |
| Prof. Machida | Prof. Serino | Dr. Campo |
| Prof. Kitazawa | Prof. Demir | Prof. Habata |
| Prof. Baker | Prof. Ihara | Prof. Min |
| Prof. Nitschke | Prof. Wei | Prof. Kim |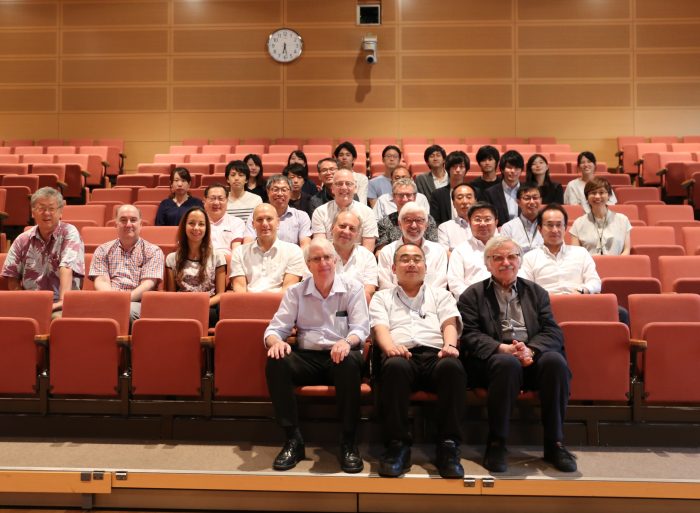 Prof. Hayami (in the middle of the front row)
August 6, 2018-The 3rd IROAST Symposium "Kumamoto Symposium on Advanced Nano and Supramolecular Materials"
Aug 6, 2018
The IROAST 3rd symposium entitled "Kumamoto Symposium on Advanced Nano & Supramolecular Materials" is scheduled for August 6, 2018. Please see the poster below. We would like as many people as possible to attend the symposium. We all are looking forward to having you.
Date: August 6, 2018
Venue: 100th Anniversary Hall, Kumamoto University (Access to Kumamoto University  Japanese/English)
Organizer: Professor HAYAMI Shinya (Faculty of Advanced Science and Technology, Kumamoto University)