Message from Director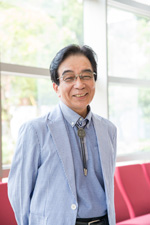 We are now in the third year of IROAST after its establishment in 2016. We have already finished our preparation stage and are now putting significant efforts into the operation of our international research activities in order to open internationally collaborated research networks.
We currently have five tenure-track researchers: one full professor, three associate professors, and one assistant professor, as well as three post-doctoral researchers who are working together with the tenure-track researchers. In addition, we have employed two distinguished professors, one from the Hungarian Academy of Science and another from Peking University, and we are continuing to recruit even more distinguished professors. To initiate additional collaboration, we have thirty-three visiting professors from top global universities and institutions around the world. We hope to see them to join the IROAST as distinguished professors for more tight research collaborations.
We had been vigorously promoting our partnership with the International Collaborative Research Group for Science and Technology, which opened in Kumamoto University in 2013. All of the group members were working as IROAST's adjunct professors and are collaborating on international research projects with IROAST faculty and our visiting professors. The research group was successfully closed at the end of March 2018. However, all the activities at the research group have been merged among the varieties of research supporting programs at IROAST. In addition, the group members are still working as our adjunct researchers.
The major mission of IROAST is the sustainable extension of cutting-edge research activities and the continuation of "brain circulation" to foster excellent young researchers. As director, it is my great pleasure to bring significant innovation to Kumamoto University through the management and operation of this research organization to see what we can achieve together.

Dr. Takashi Hiyama, Professor Emeritus of Kumamoto University
Distinguished Professor
Priority Organization for Innovation and Excellence
Kumamoto University
E-mail: hiyama[at]cs.kumamoto-u.ac.jp
URL: http://www.cs.kumamoto-u.ac.jp/hiyama/